What a year it has been. It's safe to say that most people are looking forward to putting 2020 behind them as we've
all experienced changes that hopefully, are only once in a lifetime.
So as we patiently wait for restrictions to be lifted and things to return to
pre Covid-19 times (will it ever be the same again?), its fair to ask - are the changes to our workplace here to stay?
Most organisations worldwide were forced into supporting social distancing rules and to enable their staff to work remotely, whether they were ready to or not. The Covid-19 outbreak forced businesses and organisations to fast track new IT systems to enable their staff to work efficiently and safely from home..
However physical interactions within the office environment are vital as it can support productivity, collaboration, engagement and innovation in ways remote working just cannot. With many of us slowly returning back in the workplace, new working models with versatile furniture, protective screens, antibacterial materials and new technological tools are required to safeguard the health and well-being of employees.

Change in the workplace can sometimes create concern and anxiety for some staff and many may feel off-balance while they readjust. Support for mental health and well being are important factors acknowledge by government and business..
So how can we help? Here are our top tips how we can help adapt your current workplace for the future:
TIP 1: CHANGE HOW WE USE THE WORKPLACE FOOTPRINT
Keeping employees safe in the re-opened office and complying with government guidelines and regulations requires carefully consideration to gain their trust and confidence, which will in turn deliver benefits to your business.
A strong workplace technology-based solution is the main way to effectively manage a safe work environment fit for the post Covid-19 era. The CONDECO technology software provides leading workspace management solutions to adapt to these current conditions.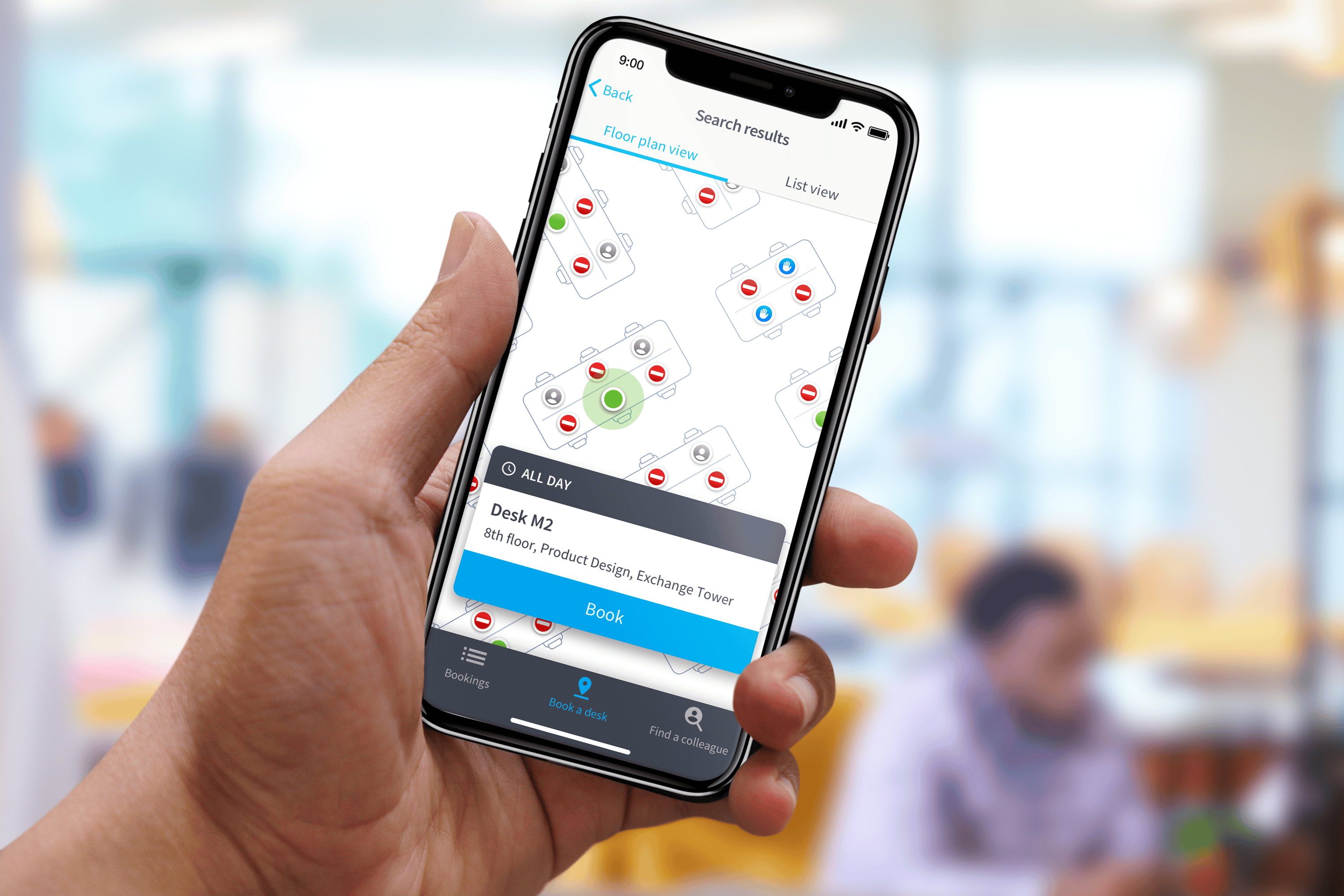 CONDECO software can incorporate every single desk, meeting room and workspace in a single system from where availability and scheduling can then be managed in real time. It can reduce workspace density, control space and capacity, establish effective workspace sanitisation and record office contact tracing. With just a few clicks, administrators can de-commission desks or rooms to create enough space that social distancing is maintained. Arrival and departure times can be spaced and staggered to prevent unintended contact and the system can even limit the number of times an employee can book a desk for. These are the new norms our office workspace is facing and the CONDECO reservation solution ensures employees are not exposed to further risks.
TIP 2: SELECT FURNITURE PRODUCTS WHICH CAN BE ADAPTABLE
Flexible furniture products that can adapt, be easily altered or reconfigured are important factors to consider when selecting new furniture for your workplace.
Perspex screens have popped up overnight in supermarkets, pharmacies and offices thanks to Covid-19. This has demonstrated the importance of creating physical (and almost invisible) boundaries and visual cues in our surroundings.
Working from home during lockdown highlighted how productive we can be when we work within a quiet and focused surrounding (maybe without the kids around). So how can we bring this idea to the workplace?
Workplaces need to create focused destinations for individuals and teams to use that reduce surrounding noise both visual and audible. OWN by 31 Degrees has been designed to create these spaces to concentrate in - away from open plan areas and distracting locations within the workplace.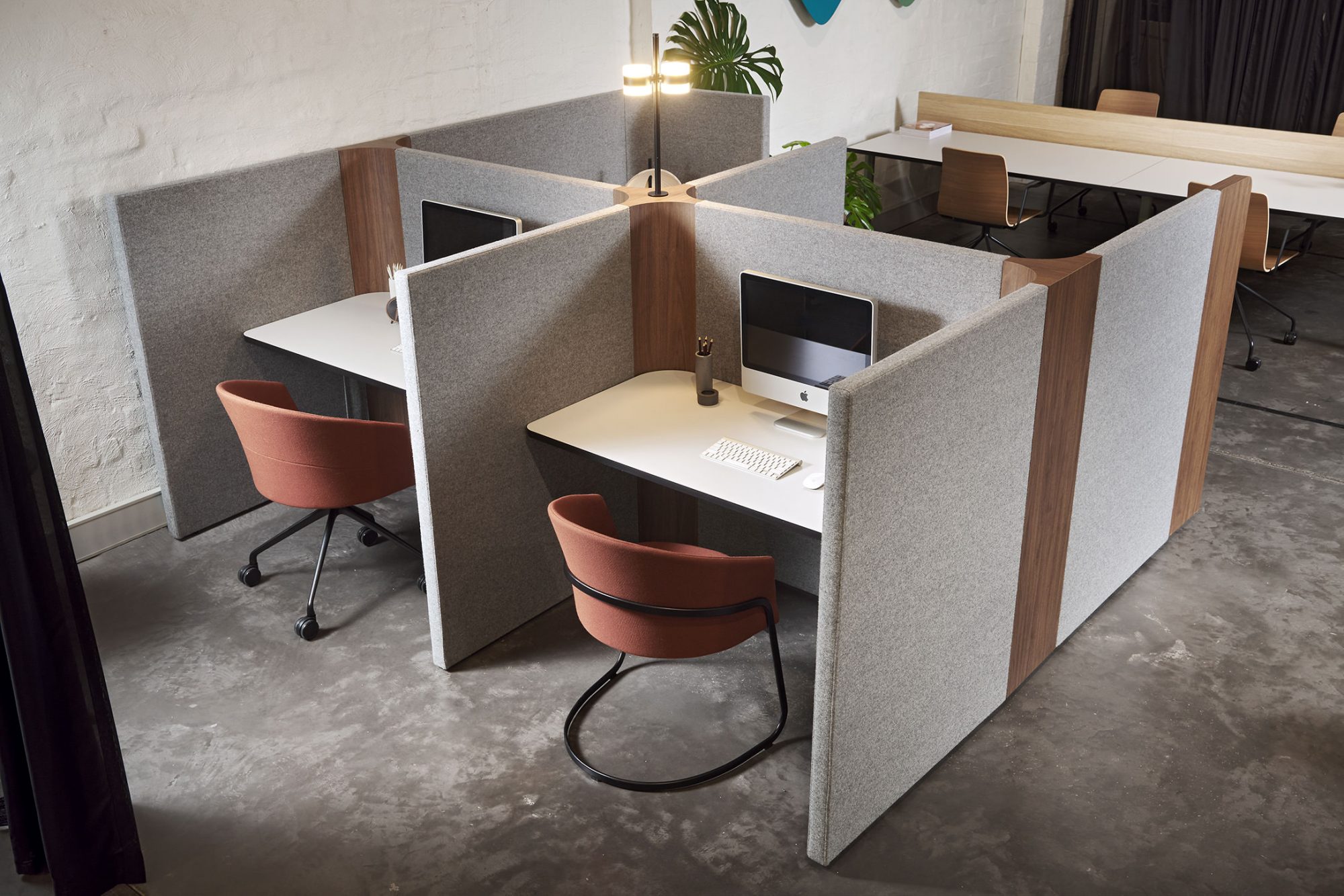 OWN is a modular group of upholstered panels and junctions that can combine seated zones, fixed height or height adjustable desks, integrated lighting and discreet cable management options.
With multiple configurations available the OWN system can also incorporate new technology systems like CONDECO and be used to manage a desk reservation system.
By future proofing the workplace, the OWN system allows businesses to change, expand and reconfigure the panels as changes in the workplace are required and more people return to the office. Flexibility in panel heights and finishes can change the look of the product and help create visual cues for the purpose of the OWN cluster in an open workspace.
TIP 3: CHOOSE FINISHES WHICH OFFER HYGIENIC MAINTENANCE
We will see a change in trend of design and finishes selected by architects and designers. Not only will designers have to re-think how to configure office spaces to meet new regulations, they will also have to adapt new materials. Product selections will be based on the maintenance and cleanliness they can provide and that can discourage the spread of germs. New technology, such as sensor-activated controls could provide access to rooms and elevators without employees having to touch a handle or press a button.


German manufacturer DAUPHIN has produced a solution to increase hygiene in workplaces which will be a top priority in the fight to slow the curve and eliminate Covid-19. Their MicroSilver BG product features a permanent antimicrobial finish which can be used on the FIORE loose seating products. At only 0.01 millimeters, MicroSilver BG consists of silver ions which fight off levels of bacteria which permanently destroy germs. This innovative technology can be paired with the flame retardant plastic seat shells to offer a highly protective finish.
Heavily used within the health industries and laboratories this product is sure to be used within the workplace in the near future.

This MircoSilver BG will have an antibacterial effect throughout its lifespan even with everyday mechanical wear and cleaning. Currently available to use on the FIORE white seat shell this offers a large family of products thanks to the interchangeable chair frames, increasing hygiene levels across the entire workplace.
So if these tips are followed for future workplace design and furniture selection post Covid-19 life, we will work in healthier and safer environments and maybe that is the best thing to come out of 2020!